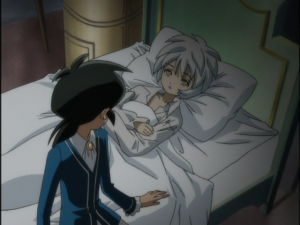 Mytho and his "keeper" Fakir, from
Princess Tutu
. Many Agoraphobes enjoy spending time in bed, looking sad. (Image stolen from
here
.)
Now with helpful illustrations!
The Wispy Clairvoyant Albino Agoraphobe bears some type of strong psychic or magical power, is the key to unlocking such power, or is in some other way vitally important to those around him, but is in some way too "weak" to make independent use of this power. He or she may be physically disabled by some injury or illness; physically disabled due to imprisonment; emotionally disabled by a tendency towards passivity and a willingness to be led; or, usually, some combination of all three. He or she will be constrained to a fairly limited physical setting that nonetheless gives off an air of wealth and privilege, often a palace, temple, hospital, or laboratory.
He or she is usually, as the name suggests, very thin and pale, with white or silver hair – though blond, blue, and purple hair are also permissible if styled appropriately limpidly. (Green is uncommon.) He or she is required to be young (-looking) and attractive, and may be a small child. The Agoraphobe may be either male or female, though I'll say "he" from here on for simplicity's sake.
Continue reading Encyclopedia of Manga Tropes: The Wispy Clairvoyant Albino Agoraphobe