The short version of this post: If you've ever had and then canceled web hosting/domain registration/etc. with Yahoo, you probably want to go in and remove all your billing information, just in case.
The long version: Remember the post I made last year about transferring my domains away from Yahoo?
Yahoo does this thing where, even if you've transferred a domain, they'll continue charging you for it each year unless, in addition to going through the transfer procedure, you also do an extra step and navigate through their byzantine account management pages to cancel their attached "Small Business Service." (Yes, this is a scam.)
Fortunately, I had done some research when I transferred my domains, so I knew about that and did the extra step. So my "Yahoo! Small Business Services" page says very clearly "You have no active services at this time."
So guess what was in my email today?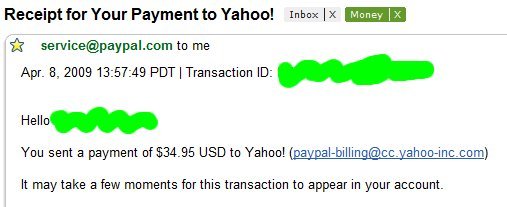 I attempted to contact Yahoo customer support, like you do. I navigated through the obnoxious little page where you have to pick the closest approximation of your problem out of some forms, and received this charming message:

I then tried calling that number down there, but got a message saying their office wasn't open. I assume they're in California. I can't really call them, like, during work, and I'm not sitting on hold on Skype until three AM tonight. I erased my billing information and did a PayPal chargeback.