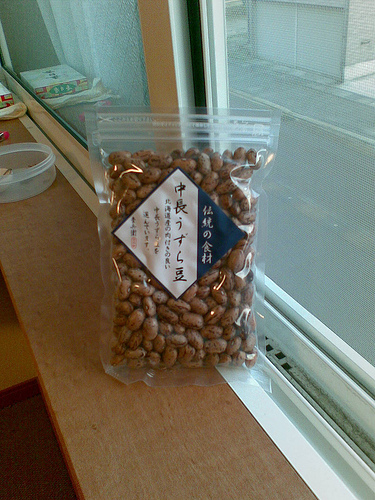 Pinto beans! And this teeny little bag cost 400 yen. I am soaking them and will make them into chili tomorrow.
"Pinto bean" in Japanese is "uzura mame," which means "quail bean." I assume this is because they look like quail eggs. So it seems like Uzura from Princess Tutu's name must be "quail." I wonder if there is some deep reason for this.
(Japan really likes quail eggs. They are boiled, and then breaded, fried, and put on a stick to eat as a snack at bars. I don't really know how I feel about Japan getting a jump on the South in the frying-stuff game here. Anyway, quail eggs are cheaper than pinto beans here and that feels like a violation of the natural order.)
Also, here is a booth down the road which contains a sort of vending machine, which you can apparently use to have the rice you grew on your farm sterilized so your family can eat it. I found it very difficult to translate the kanji because it's all brushy.