Seven-year-olds are astute judges of artistic style – they can tell I downloaded those pictures of a moon, a nest, an octopus, and a peach from four completely different websites, and they think the resulting coloring sheet crude, according it no respect. Nor do they approve the ones I draw myself, placing me without difficulty as an amateur using a marker purchased at the Hyaku-En Shop.
But I put this together in about five minutes before I left yesterday, and for some reason the Class That Always Acts Up were extremely pleased with it: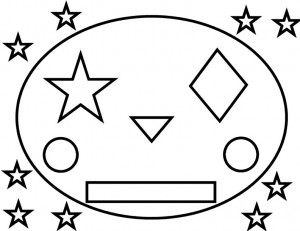 They said, "Sugoi!" Why? I spent forever drawing that bear in overalls waving bye-bye for you guys the other day, only to have you look at me and say, disgustedly, "Did teacher draw this?" Yet you like the Spider Jerusalem face? I think all the creepy corporate mascots your country produces have damaged the taste centers of your brains.