I mean, today's just fired.
(The third round of power outages was the last straw.)
But it does prove something I've suspected since the beginning of the semester – no matter how infuriating everything else is, coding always calms me down. I just go into the zone. When I get frustrated about the program, it's not the big-smile "I WILL PUNCH ANY DEITY IN THE CROTCH" sort of thing I get from papers and whatnot. Your essay or your paper ninja ornament might have an problem that's just impossible to solve – but your algorithm won't.
Or, apparently that's how I look at it.
I just uploaded my last month or so's stuff to Flickr. (Though most of it's marked private.) When I was looking through my photos for the animal shelter ads, I thought this puppy picture was cute, but…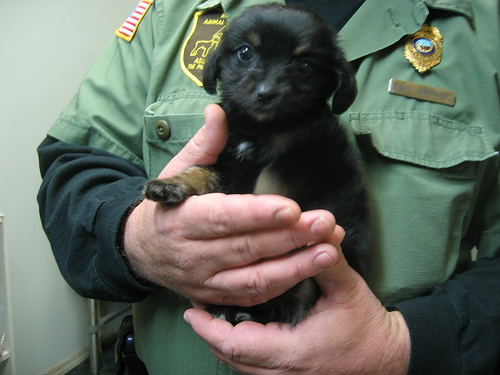 …I don't… it looks like it's going to transform. Into something bad. I don't know about this puppy.
(Fortunately, I don't think it's the one I actually used in the ad.)