I was forced to leave this note in the kitchen this morning: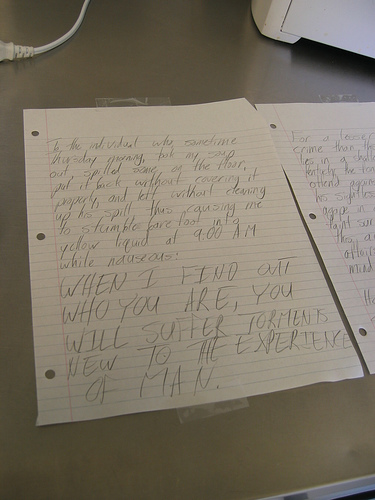 "To the individual who, sometime Thursday morning, took my soup out of the fridge, spilled some on the floor, put it back without covering it properly, and left without cleaning up his spill, thus causing me to stumble barefoot into yellow liquid at 9:00 AM while nauseous:
When I find out who you are, you will suffer torments new to experience of man.
For a lesser food-crime than this, in Kentucky a man lies in a shallow grave, the fondou he did offend against smeared across his sightless eyes, his mouth still agape in an expression of faint shock. This fate and worse await you. Settle your affairs and compose your mind and spirit.
Have a nice day,
SRP"
I think my handwriting sort of lends an air of legitimacy to death threats.